Well, good Monday to you all! I hope everyone had a great father's day (did you send your Father in Law my cute card from Somewhat Simple!?) My day was pretty low key, my father being gone. But its still fun to see everyone out enjoying the day as a family! How about you? Any big plans!?
Still no complete rooms in the new house. But I'm getting *very close* in the guest room. ;D The living room is always a work in progress, and I haven't even started on the kitchen! I did take a second to finally finish/photograph my awesome new rendition of an awesome old sewing box. But. other than that it was all house stuff. Hubby calls it "hemorrhaging money." That about sums it up!
But what about your week? Have you done anything cool (don't lie, I know you did.) Well- come share it!!
Also, if you want a reminder email when the party goes up – sign up on the right side bar!
The party is after the features!!
Sweet Sharing Monday Most Clicked:


DIY Hammered Spoon Garden Markers
Jessi hit the spoon on the head with this one! I think these little markers are SO CUTE and I love that they will be durable, and re-usable every year. Not to mention easy to replicate. I always dread spending long hours making the cutest markers, and then decide to plant something different the next year. (You KNOW I cannot have non-matching markers!?) Anyway, I'm totally using these for our raised bed garden next year!
And my Personal Favorite:

Rootbeer cupcakes with Cream Soda Frosting

Um, did you read that title? Go ahead, read it again. I'll wait. In case you missed it. That says ROOTBEER  CUPCAKES. And shortly after it says CREAM SODA FROSTING. I can't believe such a delight exists. I don't even have a working kitchen right now, and I Still feel like I have to make these. I wonder how it would taste with my Rootbeer Ice cream?
If you were featured don't forget to grab a button!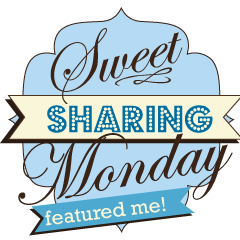 Enough! Let's do some Sweet Sharing!
Don't forget to Check back on Thursday to see which link was the most viewed!

To link back to the party- just copy & paste this code onto your blog!
The following two tabs change content below.
Kayla Domeyer
My name is Kayla and I am a Graphic Designer. That means that I love pretty things, and also that I like to make free printables! I'm so happy that you've stopped by to visit my blog, and I hope you will follow me on
Facebook
,
Twitter
,
Google +
,
Pinterest
or
Instagram
!! (Yeah, and I'm totally addicted to the internet).
Latest posts by Kayla Domeyer (see all)