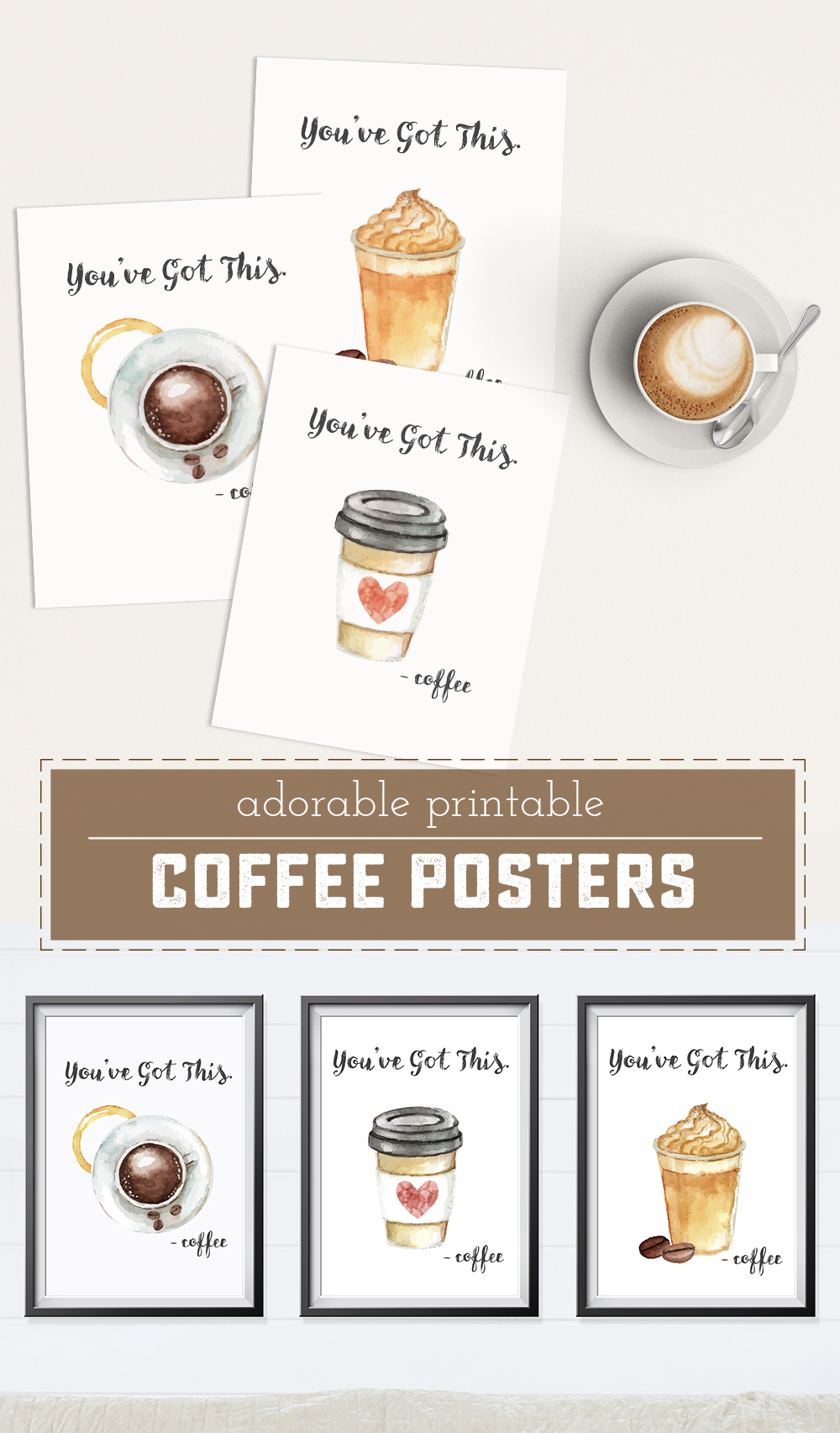 I like to make things about coffee. I made a pretty sharpie mug for my mom earlier this year, and I've been learning how to make cold brew coffee, I even made this coffee exfoliating scrub. So when I saw these adorable coffee watercolor illustrations I had to make something lovely with them. I don't do a lot of traditional painting these days, but these coffee posters might just convince me to get back into it. They are so, so cute!
These three coffee posters are cheeky and cute – just the thing to "perk" you up in the morning! I actually ended up making 5 versions, because I couldn't resist putting shiny little eyes on a couple of them. My husband calls them "boba eyes" because our favorite boba tea place has a similar looking cup of tea with a face. Maybe I'll make a boba tea version next!
I think what I like so much about these is that they could be used in any number of places. It would be great in an office kitchen area, or maybe on a cubicle wall, or framed in a kitchen. Of course, the phrase in all of the posters is the same – so you won't be able to hang all three together. So maybe hang one in the office, one in the kitchen and one on your cubicle wall. Three birds with one coffee posters stone. I'm more than happy to add more phrases if you have a favorite! Share it in the comments!
Coffee Posters with Faces
Oh and don't forget… you've got this. Coffee says it, so it must be true!
The following two tabs change content below.
Kayla Domeyer
My name is Kayla and I am a Graphic Designer. That means that I love pretty things, and also that I like to make free printables! I'm so happy that you've stopped by to visit my blog, and I hope you will follow me on
Facebook
,
Twitter
,
Google +
,
Pinterest
or
Instagram
!! (Yeah, and I'm totally addicted to the internet).
Latest posts by Kayla Domeyer (see all)