There is something so special about unique or on-of-a-kind things. Honestly, I think it is one of the main reasons I craft. When I started looking into doing yarn crafts, one of the first things I wanted to know was how to dye yarn. Why? Because sometimes you just want that perfect color. Or, as was my case, I wanted something unpredictable and variable, in the colors I wanted! This is an extra special project because it can easily incorporate children in the dying part, while leaving the actual crochet or knitting to the adults!
My grandmother crochets quite a bit and I'm so impressed with how easy dying yarn can be that I'm thinking of making her a few skeins of dyed yarn just to have as a gift. What she chooses to do with them will be her choice, but they are special none the less because the dying part was done by someone who loves her. It is a sweet gift idea for a crafter!
What You Need:
Skein of your favorite cotton dyeable yarn
Tulip cotton yarn dye (I got mine on Amazon)
Plastic gloves
Mason jars
Newspaper

How to Dye Yarn:
Lay out several pieces of scrap newspaper onto your table as your using dye and it can get messy.
Fill your bottles up to the marked line with water, make sure the top is on tightly and shake until the dye has dissolved.

Carefully squirt your dye into 4 separate Mason jars and place them in a square shape onto your newspaper.
Unwrap your yarn into a large circle and dampen it with water.
Place a section of yarn into each dye filled Mason jar making most of your yarn is submerged in one of the colors.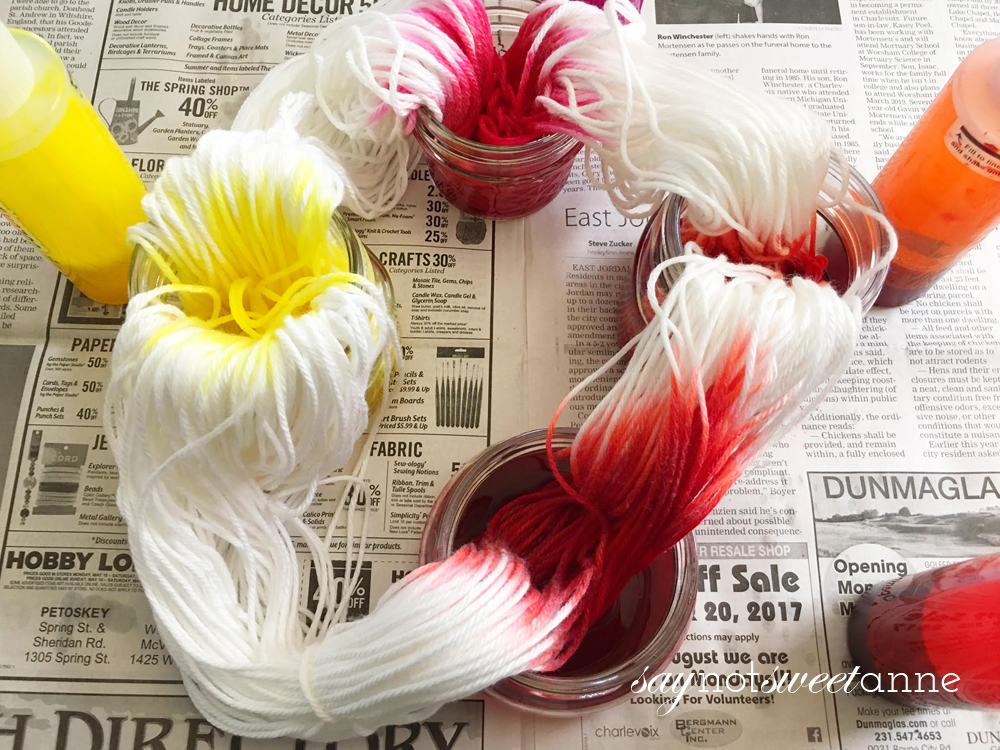 Let the yarn set for 15-20 minutes, squeeze out any excess dye, wrap in a plastic bag and let set for 4-6 hours.

Rinse your yarn with cool water until the water is clear (this part is a little time consuming).
Let dry on a plastic covered surface to insure all your dye has been rinsed out, or hang dry outside.
The following two tabs change content below.
Kayla Domeyer
My name is Kayla and I am a Graphic Designer. That means that I love pretty things, and also that I like to make free printables! I'm so happy that you've stopped by to visit my blog, and I hope you will follow me on
Facebook
,
Twitter
,
Google +
,
Pinterest
or
Instagram
!! (Yeah, and I'm totally addicted to the internet).
Latest posts by Kayla Domeyer (see all)