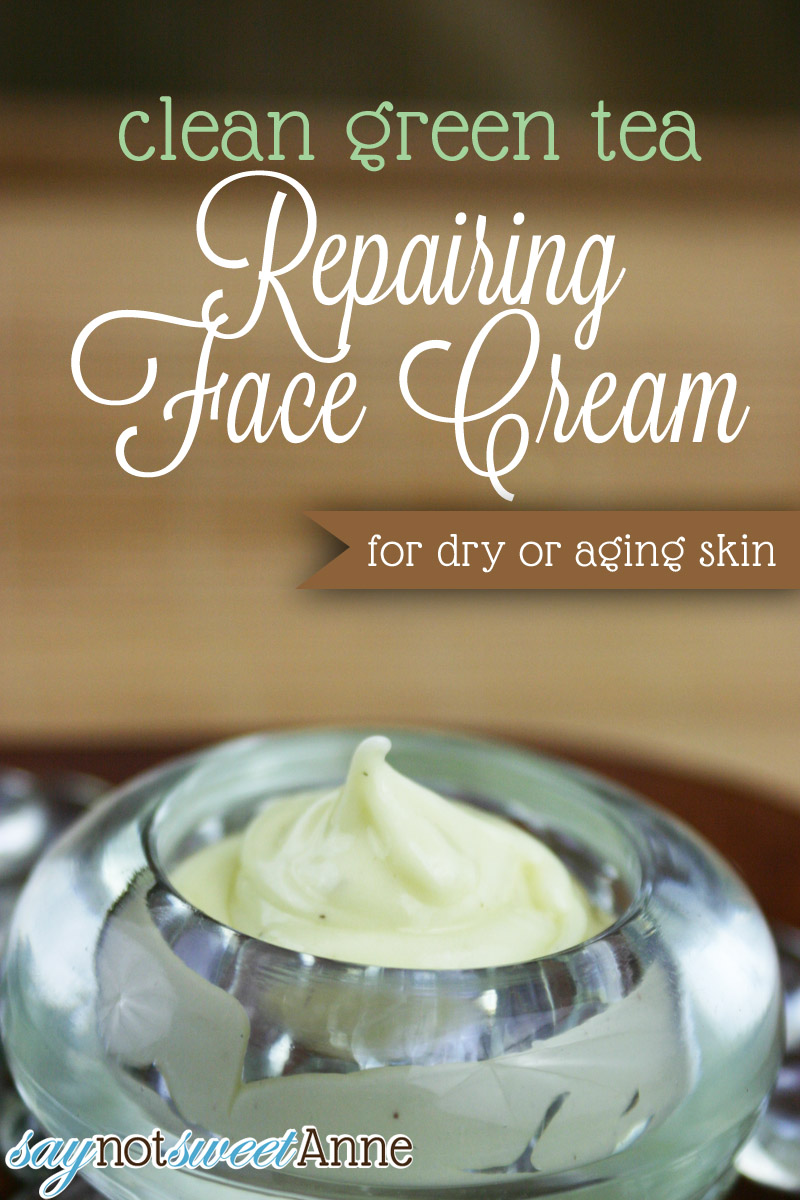 A while back I posted my DIY Natural Face Moisturizer, because I use it and I love it. That recipe focuses on being light and non-greasy, and I find it works perfect for my naturally oily skin type. However, the recipe might not be the perfect solution for someone with dry, chapping skin, or those who find their skin aging and unable to keep its moisture balance.
My best friend, Amy (she's doing well in Korea by the way. I miss her! ♥) gets wind burn. Any time she is out in the cold her face becomes dry and cracked to the point of pain. Usually the easiest target is her face. I'm sure Amy isn't the only one who experiences this during the colder months, so with September well upon us, and the first cold snap of the year, I began working on a special face cream just for them. Introducing my Green Tea Face Cream!
On my Lotion Texture and Feeling scale, this one is a little heavier than some of the others I've posted.
This Repairing Face Cream is perfect for people like Amy. Green tea has been known to repair some sun damage and possibly reduce signs of aging. Plus, it smells yummy. The Rose hip seed oil focuses on skin repair and regeneration, which makes this cream great for chapped areas. Rose hip seed oil is also used for aging skin, increasing its ability to repair itself. Coconut and Almond oils are great moisturizers, and bee wax helps lock in that effect. Its all natural, smells delicious and is great for your skin!!
Oh, and did I mention it is easy? The Green tea face cream is arguably easier than the DIY Natural Face Moisturizer, because there is no emulsification in the blender. What are we waiting for! Let's get to it!!
What You Need:
.25 oz (by weight!) bees wax. Grate the wax, or you can buy it in pellets. Avoid wax made for candles, as it can be mixed with other things and be scented. 100% pure bee wax is what we're after here.
1 oz almond oil (I order on Amazon)
1 oz coconut oil
1/4 tsp Rose Hip Seed Oil (I got mine at Amazon)
1 packet organic green tea
Sterilized container to store lotion in
A chocolate melter or double boiler
A deep, heavy cup and a hand mixer
Fine sieve or tea strainer
This Green Tea recipe has become a fan favorite, and I've been asked a lot of questions about it. I've compiled the answers into an easy FAQ at the bottom of this page. Check it out!
How To Make It:
Clean and sterilize all of your equipment. This lotion has a longer shelf life because it is oil only, but we don't want to create a breeding ground for bacteria.
Open the tea bag and pour loose tea into the oils. Let the mixture warm and extract from the tea for 15 minutes.
Strain oil mixture through a fine mesh sieve into a deep cup. (I used my pyrex measuring cup.)
Whip the mixture with your hand mixer, periodically scraping down the sides, until lotion is room temperature and creamy.

Store green tea face cream lotion in a cool dark place. Keep in mind that lotions have a shelf life. Do not use anything that looks or smells wrong. That said, oil only lotions have a very long shelf life.

DIY Lotion Frequently Asked Questions:
"Can I use loose leaf tea? How much?"
Absolutely. I would think a couple of tablespoons. It shouldn't hurt anything if you use too much.
"Can I leave the tea in the bag?"
You can certainly try. I was afraid that the viscosity of the oils would keep it from permeating the tea bag, and I wouldn't get any green tea in at all.
"Do I need Beeswax? Can I substitute it?"
You can try swapping with 1/2 the amount in carnauba, emulsion or soy wax. I do recommend using a wax to help stabilize the mixture.
"By weight or by volume?"
For all of my recipes the measurements are by volume unless noted otherwise. In this particular recipe, all of the oils are measured by volume but the beeswax is measured by weight. The coconut oil was measured in its semi-solid room temp state.
"Can I add/substitute this, that or the other thing?"
I get these sort of questions a lot. These recipes are simple ratios of solid, semi solid and liquid oils/additives. Obviously I have not tried everything under the sun, so I don't really know what would happen if you try adding X or Y. But please, experiment! Try things! Add that fancy rose water, or that pigment, or sub out that oil- whatever! Report back and let us know what you find.
"Do I need a blender?"
I would really, really recommend it. A hand mixer or stand mixer with a whisk attachment would be fine too.
"How Much Does It Make?"
Well, silly me forgot to measure before I started using it. But you can see the 1 cup measure in the picture to get an idea.
Check out my other Beauty Related posts!
The following two tabs change content below.
Kayla Domeyer
My name is Kayla and I am a Graphic Designer. That means that I love pretty things, and also that I like to make free printables! I'm so happy that you've stopped by to visit my blog, and I hope you will follow me on
Facebook
,
Twitter
,
Google +
,
Pinterest
or
Instagram
!! (Yeah, and I'm totally addicted to the internet).
Latest posts by Kayla Domeyer (see all)