I mentioned a few posts back that I received a Martha Stewart Craft book for my birthday. Well, my latest favorite are these Felt Fortune Cookies. So, with that floating around in my head, I stumbled upon this paper printable fortune cookie post from last year. Suddenly I was in a V-Day Fortune cookie mood! I'm hoping that when I give this to my hubby on Valentine's Day, he will open a fortune a day for a week. And, since our wedding anniversary is at the end of February, at the bottom of the box I'll hide some sort of anniversary message!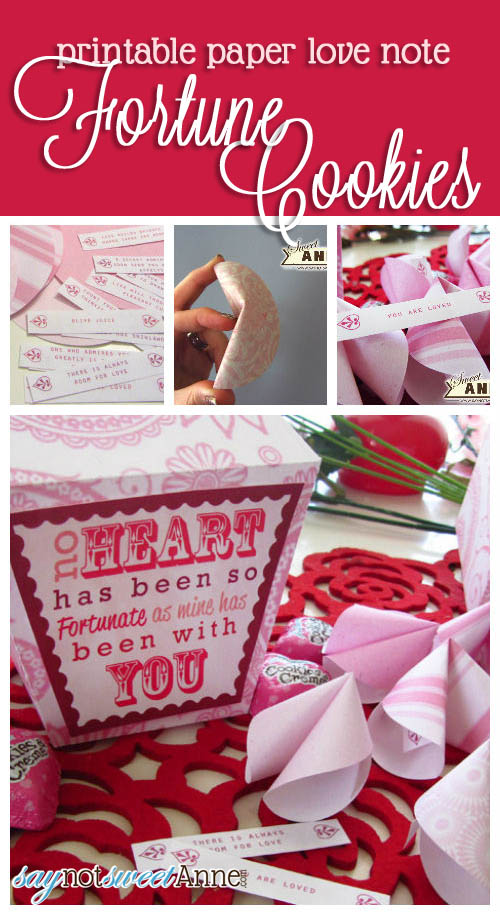 So, here they are! I've done 3 different versions of these printable fortune cookies, to suit all sorts of crafty types. Let me explain:
Print and Hand Cut – This free download includes the pink papers as seen here. Its a 4 sheet printable. Two patterned sheets for the box (It prints in 2 pieces), and one with 6 different patterned rounds (for the cookies). All of the cut lines are marked, so you print them, and then cut them! (Cut on the solid lines, score on the dotted lines.)
Print And Hand Cut File | Label & Fortunes
 
Cut Template – This 4 sheet printable doesn't include the colored patterns. I thought there might be crafters out there who would prefer to use their own paper. So, this template includes only the lines needed to cut out the box and the cookies. Print them on white paper and trace them, or print directly on the your letter-sized paper of choice, then cut. (Cut on the solid lines, score on the dotted lines.)
Cut Template | Label & Fortunes

Silhouette Cutting files – I have a Silhouette Cameo, so I put together a set with cutting files for the box and the fortunes. They are designed for 12×12 paper of your choice (this is not a print & cut). You will still have to print just the labels and fortunes.
.Studio File  for Favors | .Studio File for Boxes | Label & Fortunes
How To Make It:
Since there are so many different ways to print & cut this project- I'm going to begin the tutorial after you've already printed and cut all of the elements.
Grab the box peice with the bottom lets call this pc1. Each peice has one side flap. Glue that side flap on pc1 to the side on pc2 that does NOT have a flap. Repeat, gluing the flap from pc2 onto the flapless side on pc1. You should have a box shape.

Fold the bottom lid up, and glue its tabs to the inside of the box.

Glue the front label to the box. Tada! Box is done. Onto fortunes.
Cut out the fortunes. Have them close at hand. Take a round, and bend it in half, pretty side out. Do not crease.

Now, pucker the fold on the opposite side, and pull the ends together.

Sneak a fortune inside, and use a dot of glue to glue the ends together and hold the cookie in the "folded" position.
Once all completed, drop the cookies and some candy into the box!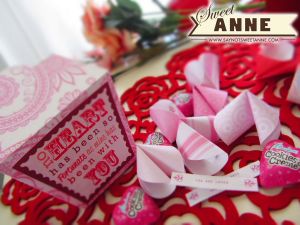 The following two tabs change content below.
Kayla Domeyer
My name is Kayla and I am a Graphic Designer. That means that I love pretty things, and also that I like to make free printables! I'm so happy that you've stopped by to visit my blog, and I hope you will follow me on
Facebook
,
Twitter
,
Google +
,
Pinterest
or
Instagram
!! (Yeah, and I'm totally addicted to the internet).
Latest posts by Kayla Domeyer (see all)